xkcd gets on the JFK bandwagon: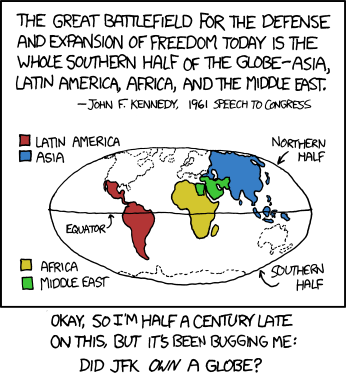 The alt text for the comic, which references JFK quotes I've previously slandered, is:
Also, if you read his speech at Rice, all his arguments for going to the moon work equally well as arguments for blowing up the moon, sending cloned dinosaurs into space, or constructing a towering penis-shaped obelisk on Mars.
I assume this specifically refers to:
We choose to go to the moon. We choose to go to the moon… (interrupted by applause) we choose to go to the moon in this decade and do the other things, not because they are easy, but because they are hard, because that goal will serve to organize and measure the best of our energies and skills, because that challenge is one that we are willing to accept, one we are unwilling to postpone, and one which we intend to win, and the others, too.
As I've said before, doing something because it's difficult is a very noble goal for an individual.  It is not noble to say "we are going to do this very difficult and expensive thing, and by 'we' I mean you will pay for it and I will sign some papers."