Sun 10 Jul 2011
Cory Doctorow, at BoingBoing, reproduces this great chart, showing the number of people who, after receiving the benefits of a government social program, still believe they are not using government social programs: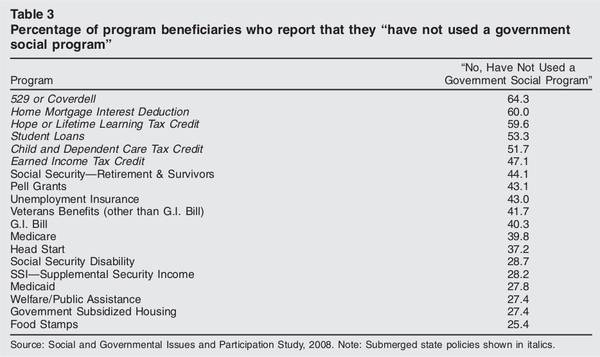 He editorializes:
It's the "Keep your government hands off my Medicare" phenomena writ large: a society of people who subsist on mutual aid and redistributive policies who've been conned (and conned themselves) into thinking that they are rugged individualists and that everyone else is a parasite.
While I am second to none in slamming those in the  "Keep your government hands off my Medicare" crowd, this graph doesn't exactly say that.  Doctorow says "subsist on" but that's not really what the chart says.  It just points out that one is receiving a government benefit of any value, not that one subsists on it, or even enjoyed net benefits from it.   To take a specific example, as far as I can tell (I don't recognize all the items listed), the only one that I have received is the mortgage interest deduction.  Yet, as a crazy libertarian, I would indeed say "I am not on a government social program."
You can say that's me being hypocritical, but when you compare the amount of money I gain from that tax credit, compared to the money I pay in taxes to support all those other things that I do not benefit (you can argue that I may one day benefit, or that they provide a protective net) from, it's hardly fair to say that I benefit from (much less subsist on!) government programs as a whole, as the net benefit to me of them is negative.  In fact, for at least some relatively large section of the population, the net benefit must be negative, in order to balance the other section (those for whom the social program is surely designed) for whom the benefit is positive.  I would gladly forgo that tax credit if I could get out of even one or two of those other programs — social security being top of the list.  The endpoint of this logic is that we would claim that a person who pays 1o dollars in taxes to support "government social programs" and only receives 2 dollars in benefit from them is a hypocritical jerk for not thinking they were beneficiaries of these programs.
Also, there's the un-stated implication that if I were an honest rugged individualist, I would renounce accepting that tax credit.  This seems strange that, as one of those rugged individualists, I would voluntarily pay more taxes (out of my ruggedly earned paycheck) than I needed to the state that I believed (rightly or wrongly) was doing too much in the "government social program" area.  It seems, to put it mildly, at odds with my implied ideology.  If all it takes to undermine the validity of my libertarian beliefs is the idea that at any point I receive even one dollar in benefit from a government program, then I can see why someone would think it a pretty defective political belief system.  BoingBoing Commenter Ambiguity makes this point more eloquently than I:
Characterizing a mortgage interest deduction as a social program is a bit, shall we say, idiosyncratic. Perhaps it's common for people who write papers with titles like "Reconstituting the Submerged State," but for normal people?

By that logic, most working class people receive tens of thousands of dollars in social programs a year: the income that they don't pay in taxes.
Next up, it uncritically accepts that every one of these programs is beneficial to its recipients.  If you're talking about libertarians and their stupid theories about social programs, you won't get really far without confronting one or two who make the case that these programs aren't always good for those who receive them — and in fact you may encounter a few (like the one typing right now) who claim that's the primary reason not to support them, in many cases surpassing the costs to the rugged individualists who earn the money to support them.  Take student loans.  There's been a lot of talk lately about the student debt problem — people take loans to get degrees that don't necessarily translate into higher paying jobs, and are stuck paying them off.  Megan McArdle's blog had a big debate on just how hard it is to escape the costs of student loans.  If this is true — then are we really benefiting the recipients of these loans by subsidizing them?  Sure, maybe some benefit, but surely there are some who get government subsidized loans to pay for four years of an English degree and then find the only result is a stiff monthly loan repayment.  Is that person better off because of that program?  Would he be a hypocrite for thinking we would be better off getting rid of that program, even though he nominally benefited from it?  Maybe the picture is a little more complex than "any person who receives even a dollar from a government social program is a total hypocrite if they oppose those programs, even in general."
Despite my criticisms, the post makes a very important point.  A lot of people in this country actually do get lots of money (perhaps even more than they pay in via taxes) via government social programs, yet don't consider themselves as doing so.  Doctorow thinks this means they should shut up and accept all these social programs, but even if you don't buy that, there's an important message to anyone considering spending cuts: people might generally support cuts and think it'll only hurt those parasite jerks, but they'll scream bloody murder if you cut into their program.  We of course see this any time congress actually tries to cut something — the public generally supports it, but those whose program is going to get cut violently oppose it.  In the same way, an un-named, ambiguous Republican might poll better than President Obama, but right now no actually existing one does.
Of course, this cuts the other way too: Doctorow might consider what it does to our national debate over spending programs when there are so many people with direct cash payments at risk.  The national policy of "give Brian Moore and Cory Doctorow one million dollars each" might be a good one, or it might be a bad one — but we could not consider ourselves unbiased, dispassionate voters on the issue, and we should not do so with the millions of voters who stand to gain direct cash payments from other policies, either.
Update: Alex Tabarrok has an opinion too.
2 Responses to " On Not Using Government Social Programs "
Trackbacks & Pingbacks: